28 Jul

Baobab 4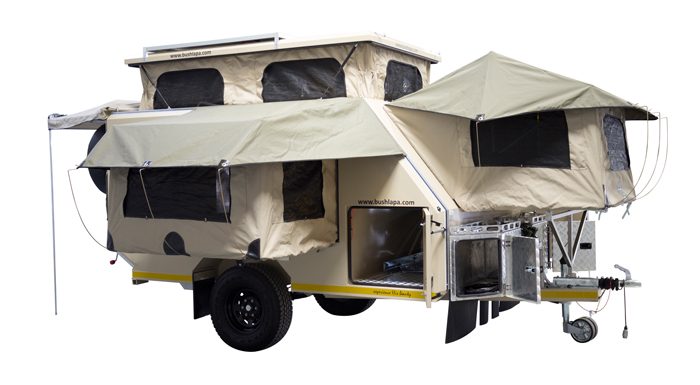 The Baobab range provides ample space for four people. Discover the Australian outdoors in rugged style, with plenty of storage space for longer stays in the wild.
Brand new design.
Set-up camp in under 15 minutes.
Sleeps 4 adults.
1090 kg dry weight
3CR12 Stainless steel body and chassis with a 1 year warranty.
GVM 1800 kg
Departure angle of 27°
Comes standard with the fuss-free Bush Wing® awning including complete set of sides, and spacious kitchen layout, additional fridge drawer with loads of storage space, gas hot water system, shower wing under awning and lots more.
GENERAL SPECIFICATIONS
Dry Weight – TARE: 1090kg
Total Length (Spare wheel incl): 4570mm
Total Height to roof top: 2150mm
Total Height to top of Bush Wing (depending on tyre size): 2250mm
Head room inside: 1980mm
Total Width: 1970mm
Ground Clearance (axle): 350mm
Departure angle: 27°
Solid beam axle with leaf springs and shock absorbers: 1800kg
GVM: 1800kg
Loading Capacity: 710kg
Double beds: 2
Sleeps: 4 Adults
Stainless Steel Body and Chassis
Aluminium interior and doors
Micro Dotted (also known as Data Dot) for additional security.
1 Year Guarantee (ex factory) on material and workmanship, other items as per manufacturer's guarantees
STANDARD FEATURES
Bush Wing awning 90° x 270° x 1
Sides for Bush Wing (2x doors) x 6
Draft skirt x 2
Mosquito net at door x 1
16" Wheels, 6 stud, 139mm PCD, black mags (spare wheel with steel rim)
Kitchen with stainless steel working table x 1
Stabilizers/Jacks/High lift jacks x 2
Wheel spanner, lockable spare wheel x 1
Double cupboards for clothes with canvassing & zips x 12
Mattress x 2 Doubles
Side and front bed with tents x 2
Inside floor carpet x 1
Heavy duty jockey wheel x 1
Jockey wheel out of the way bracket x 1
Aluminium chequered nose boxes x 2
Jerry can holder between nose boxes x 1
Aluminium wood racks on top of nose boxes x 2
Kitchen LED light x 1
LED Lights x 8
Merit / Hella points 12V output x 3
Anderson Fridge points 12V 50A x 1
240V Inlet caravan plug x 1
240V plug (3 point) outside at kitchen x 3
240V plug (2 point) inside (built in breaker) x 1
240V plug (3 point) inside (built in breaker) x 1
Intelligent Charging system, monitor and Bush Lapa power panel with USB plugs x 1
Charging system from vehicle (Anderson plug on A-frame) x 1
Mudflaps x 2
Mudflap stone protectors for chassis x 1
Fire extinguisher x 1
Double wash basin with aluminium frame (removable)x 1
Heavy duty aluminium kitchen drawer system x 1
Gas cylinder bracket in nose box x 1
150 Litre stainless steel water tank under chassis with automatic pump, filler cap, tap and drain plug x 1
Crockery set in foam holder in kitchen (for six) x 1 Hot and cold water taps on rear for wash basins and shower
Hot and cold water mixer at fridge drawer for wash basins & cooking x
Aluminium bolt-on step at entrance door (removable) x 1
Built in wash basin with warm and cold water mixer
Spare wheel cover x 1
Transport included to Bush Lapa branches & agents x 1
OPTIONAL EXTRAS
Solar Panel 140W with controller and aluminium roof rack
National Luna 90L fridge/freezer
2 x 130AH Deep cycle batteries
Bearing kit
Mag Wheels 17" or 18"
6 Litre/min gas hot water with direct connection to rear tap
Shower Wing
Aluminium Toolbox between Nose boxes
Second gas cylinder bracket
Gas cylinders 4kg (filled)
1200mm x 600mm Loose standing aluminium table with fold in legs and PVC bag
Jerry cans x 2
240V Caravan extension lead for mains 10m x 1
2 Burner Dometic glass top gas cooker fixed in stainless steel stand x 1
Other optional items available – please contact us for details