27 Jul

Hopper 2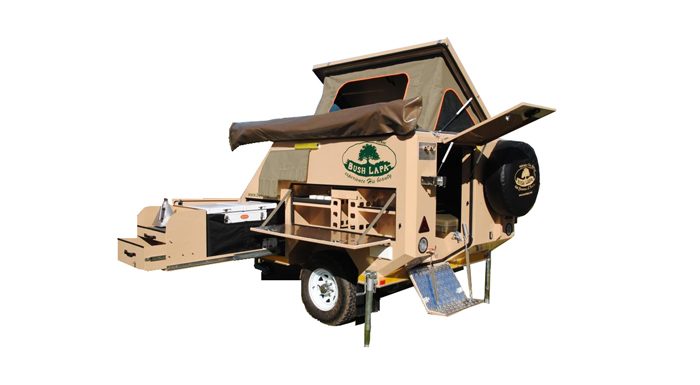 This little guy really packs a punch. It's ideal for adventurous couples who love to cook up a storm wherever they travel.
Set-up camp in under 10 minutes.
Sleeps 2 adults.
Compact enough to fit into a standard garage.
800 kg dry weight makes the Hopper 2 the lightest of our range.
GVM 1500 kg
3CR12 Stainless steel body and chassis
Comes standard with the fuss-free Bush Wing® awning and spacious kitchen layout, fridge drawer with loads of storage space.
GENERAL SPECIFICATIONS
Dry Weight – TARE: 800kg
Total Length (Spare wheel incl): 4050mm
Total Height to roof top: 1970mm
Total Height to top of Bush Wing (depending on tyre size): ±2050mm
Total Width: 1850mm
Ground Clearance (axle): 350mm
Departure angle: 44°
Solid beam axle with leaf springs and shock absorbers: 1800kg
Double beds: 1
Sleeps: 2 Adults
Stainless Steel Body and Chassis
Aluminium interior and doors
Micro Dotted (also known as Data Dot) for additional security.
1 Year Guarantee (ex factory) on material and workmanship, other items as per manufacturer's guarantees
STANDARD FEATURES
Bush Wing awning 90° x 270° x 1
Sides for Bush Wing (2x doors) x 5
Draft skirt x 1
Mosquito net at door x 1
16" Wheels, 6 stud, 139mm PCD, black mags (spare wheel with steel rim)
Kitchen with stainless steel working table x 1
Stabilizers/Jacks/High lift jacks x 2
Wheel spanner, lockable spare wheel x 1
Double cupboards for clothes with canvassing & zips x 7
Mattress x 1 Double
Side bed with tent x 1
Inside floor carpet x 1
Heavy duty jockey wheel x 1
Jockey wheel out of the way bracket x 1
Aluminium chequered nose boxes x 2
Jerry can holder between nose boxes x 1
Aluminium wood racks on top of nose boxes x 2
Kitchen LED light x 1
LED Lights x 8
Merit / Hella points 12V output x 3
Anderson Fridge points 12V 50A x 1
240V Inlet caravan plug x 1
240V plug (3 point) outside at kitchen x 3
240V plug (2 point) inside (built in breaker) x 1
240V plug (3 point) inside (built in breaker) x 1
Intelligent Charging system, monitor and Bush Lapa power panel with USB plugs x 1
Charging system from vehicle (Anderson plug on A-frame) x 1
Mudflaps x 2
Mudflap stone protectors for chassis x 1
Fire extinguisher x 1
Double wash basin on rear with aluminium frame (removable)x 1
Heavy duty aluminium kitchen drawer system x 1
Aluminium storage box next to fridge (to fit fridge specifications) x 1
Gas cylinder bracket in nose box x 1
105 Litre stainless steel water tank under chassis with automatic pump, filler cap, tap and drain plug x 1
Cutlery canvas holder x 1
Crockery set in foam holder in kitchen (for six) x 1
Spare wheel cover x 1
Transport included to Bush Lapa branches & agents x 1
OPTIONAL EXTRAS
Solar Panel 140W with controller and aluminium roof rack
National Luna 90L fridge/freezer
2 x 130AH Deep cycle batteries
Bearing kit
Mag Wheels 17" or 18"
6 Litre/min gas hot water with direct connection to rear tap
Shower Wing
Aluminium Toolbox between Nose boxes
Second gas cylinder bracket
Gas cylinders 4kg (filled)
1200mm x 600mm Loose standing aluminium table with fold in legs and PVC bag
Jerry cans x 2
240V Caravan extension lead for mains 10m x 1
2 Burner Dometic glass top gas cooker fixed in stainless steel stand x 1
Other optional items available – please contact us for details